Product Name:
Geratherm Classic Thermometer
Will this item arrived flat packed:
(✓) This item will be flat packed for cheaper postage, this allows us to offer free p&p.
Product Description:
The Geratherm classic clinical thermometer is the first analogue thermometer worldwide without mercury and can equally be used as an adult or child thermometer.
It contains Gallium – the non-toxic measuring fluid
There is lifetime guaranteed high accuracy (+0.1 °C/-0.15 °C)
The analogue thermometer should make for easy cleaning and reliable disinfection of the glass case
The clinical thermometer is completely waterproof and is suitable for use by both adults and children
The adult thermometer is suitable for allergic persons – no PVC, no nickel
The adult thermometer is supplied with a storage case and is patented worldwide
The clinical thermometer has a measuring range of 35.5 °C – 42.0 °C
The clinical thermometer is environmentally friendly.
Genuine UK Pharmacy Stock – NHS Pharmacy
instant-pharmacy is the online branch of a genuine UK Pharmacy, as such we are registered with the MHRA to sell genuine "P" Medicines ('over-the-counter' medication).
Please ensure that when buying medicines from eBay that the seller is certified to sell "P" medicines, as we are.
Packaging
The packaging for some medications may be flat-packed.
We happily cover the cost of all postage and packaging fees.
Delivery
At instant-pharmacy we want to provide the best possible service for our customers, for that reason products sold by us are delivered FREE of charge.
All items are dispatched within 3 working days of payment receival. We use a range of couriers including Royal Mail & Hermes.
Delivery times vary depending on courier used, but all medicines should arrive within 7 working days of purchase.
Returns
We accept returns made within 14 days of receiving your order, on the condition that:
All goods being in a new sellable condition.
All items being unopened and unused.
After initiating the return procedure, you will have 14 days to send back the item(s) you wish to return.
You will be responsible for all return shipping charges.
All monies will be refunded to the account from which purchases were made from.
After 14 days of having received your order you will no longer be entitled to a full refund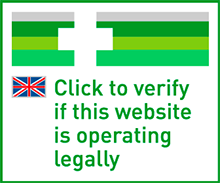 https://medicine-seller-register.mhra.gov.uk/search-registry/1069