What's in the Package:
– Pack of Nurofen Liquicaps 200mg x16 Liquid Capsules.
PLEASE ALWAYS READ PATIENT INFORMATION LEAFLET WHEN USING MEDICINE.
The active ingredient (which makes the medicine work) is Ibuprofen. It belongs to a group of medicines known as non-steroidal anti-inflammatory drugs (NSAIDs).
NSAIDs provide relief by changing the body's response to pain, swelling, and high temperature
USEAGE
Headaches and migraine pain
Dental pain and neuralgia
Period pain
Rheumatic, muscular and back pain
Feverishness and symptoms of cold and flu.
DO NOT USE IF:
are allergic to ibuprofen or any of the other ingredients or to aspirin or other painkillers
have (or have had two or more episodes of) a stomach ulcer, perforation or bleeding
have had a worsening of asthma, skin rash, itchy runny nose or facial swelling when previously taking ibuprofen, aspirin or similar medicines
have had gastrointestinal bleeding or perforation when previously taking NSAIDs (Non-steroidal anti-inflammatory drugs)
are taking other NSAID painkillers or more than 75mg aspirin a day
have severe liver or kidney problems
have heart problems, high blood pressure or blood coagulation disorder.
have breathing difficulties
are in the last 3 months of pregnancy
are under 12 years old.
are allergic to peanut or soya as this product contains Lecithin
Genuine UK Pharmacy Stock – NHS Pharmacy
 We are a genuine UK pharmacy!
Packaging
The packaging for some medications may be flat-packed.
We happily cover the cost of all postage and packaging fees.
Delivery
At instant-pharmacy we want to provide the best possible service for our customers, for that reason products sold by us are delivered FREE of charge.
All items are dispatched within 3 working days of payment receival. We use a range of couriers including Royal Mail & Hermes.
Delivery times vary depending on courier used, but all medicines should arrive within 7 working days of purchase.
Returns
We accept returns made within 14 days of receiving your order, on the condition that:
All goods being in a new sellable condition.
All items being unopened and unused.
After initiating the return procedure, you will have 14 days to send back the item(s) you wish to return.
You will be responsible for all return shipping charges.
All monies will be refunded to the account from which purchases were made from.
After 14 days of having received your order you will no longer be entitled to a full refund.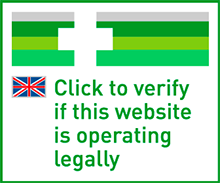 https://medicine-seller-register.mhra.gov.uk/search-registry/1069