What's in the Package:
– Contains 1 bottle Oilatum bath emollient 500g.
PLEASE ALWAYS READ PATIENT INFORMATION LEAFLET + LABEL WHEN USING MEDICINE OR CREAMS/EMOLLIENTS.
Delivery
At instant-pharmacy we want to provide the best possible service for our customers, for that reason products sold by us are delivered FREE of charge.
All items are dispatched within 3 working days of payment receival. We use a range of couriers including Royal Mail & Hermes.
Delivery times vary depending on courier used, but all medicines should arrive within 7 working days of purchase.
Returns
We accept returns made within 14 days of receiving your order, on the condition that:
All goods being in a new sellable condition.
All items being unopened and unused.
After initiating the return procedure, you will have 14 days to send back the item(s) you wish to return.
You will be responsible for all return shipping charges.
All monies will be refunded to the account from which purchases were made from.
After 14 days of having received your order you will no longer be entitled to a full refund.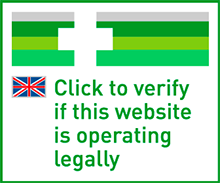 https://medicine-seller-register.mhra.gov.uk/search-registry/1069