What is this medicine used for:
Olbas Oil is a blend of pure plant oils for the relief of bronchial and nasal congestion, hayfever and minor infections of the airways by inhalation.
When applied to the skin, Olbas Oil also relieves the symptoms of muscular pain and stiffness including:
Backache
Sciatica
Lumbago
Ibrositis (pain, stiffness and tenderness of muscles, tendons and joints)
Rheumatic pain
Do NOT use if:
Do not use Olbas Oil:
• if you are allergic to any of the ingredients (see section 6 for a complete list of ingredients)
• on broken skin.
Taking other medicines Please tell your doctor or pharmacist before using Olbas Oil if you are taking or have recently taken any other medicines, including:
• blood thinning tablets (e.g. warfarin) (if intending to use on your skin)
 medicines obtained without a prescription.
Pregnancy and breast-feeding It is best not to take any non-essential medication when pregnant or breast-feeding.
Ask your doctor or pharmacist for advice before taking any medicine.
Genuine UK Pharmacy Stock – NHS Pharmacy
instant-pharmacy is the online branch of a genuine UK Pharmacy, as such we are registered with the MHRA to sell genuine "P" Medicines ('over-the-counter' medication).
Please ensure that when buying medicines from eBay that the seller is certified to sell "P" medicines, as we are.
Packaging
The packaging for some medications may be flat-packed.
We happily cover the cost of all postage and packaging fees.
Delivery
At instant-pharmacy we want to provide the best possible service for our customers, for that reason products sold by us are delivered FREE of charge.
All items are dispatched within 3 working days of payment receival. We use a range of couriers including Royal Mail & Hermes.
Delivery times vary depending on courier used, but all medicines should arrive within 7 working days of purchase.
Returns
We accept returns made within 14 days of receiving your order, on the condition that:
All goods being in a new sellable condition.
All items being unopened and unused.
After initiating the return procedure, you will have 14 days to send back the item(s) you wish to return.
You will be responsible for all return shipping charges.
All monies will be refunded to the account from which purchases were made from.
After 14 days of having received your order you will no longer be entitled to a full refund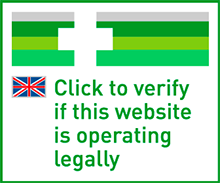 https://medicine-seller-register.mhra.gov.uk/search-registry/1069