What is this medicine used for:
Strepsils Sore Throat and Cough Lozenges is an effective oral treatment for fast and effective symptomatic relief from sore throat and cough. The oral lozenges contains 2-4-Dichlorobenzyl alcohol, 0.6,g of amylmetacresol and 8.0mg of levomenthol as its key ingredient which provides symptomatic relief from common colds, cough and sore throats. The oral lozenges effectively treat the symptoms of nasal congestion and treat its other symptoms with ease.
Do NOT use if:
Keep away from the sight and reach of children, infants and pets
Do not consume in case of allergies and reactions to any of the ingredients used in it
Do not exceed the stated dose
Consult your doctor before consuming if you are pregnant, planning to get pregnant or breast-feeding
If symptoms persist, seek medical help
Do not use after expiry date
Genuine UK Pharmacy Stock – NHS Pharmacy
instant-pharmacy is the online branch of a genuine UK Pharmacy, as such we are registered with the MHRA to sell genuine "P" Medicines ('over-the-counter' medication).
Please ensure that when buying medicines from eBay that the seller is certified to sell "P" medicines, as we are.
Due to "P" rating of this medication, you will be required to fill in an online questionnaire before we can dispatch your order.
Packaging
The packaging for some medications may be flat-packed.
We happily cover the cost of all postage and packaging fees.
Delivery
At instant-pharmacy we want to provide the best possible service for our customers, for that reason products sold by us are delivered FREE of charge.
All items are dispatched within 3 working days of payment receival. We use a range of couriers including Royal Mail & Hermes.
Delivery times vary depending on courier used, but all medicines should arrive within 7 working days of purchase.
Returns
We accept returns made within 14 days of receiving your order, on the condition that:
All goods being in a new sellable condition.
All items being unopened and unused.
After initiating the return procedure, you will have 14 days to send back the item(s) you wish to return.
You will be responsible for all return shipping charges.
All monies will be refunded to the account from which purchases were made from.
After 14 days of having received your order you will no longer be entitled to a full refund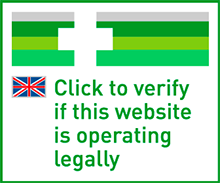 https://medicine-seller-register.mhra.gov.uk/search-registry/1069