What is this medicine used for:
Transparent film dressings designed for protecting skin and wound sites. Frame style allows customization of shape and size to fit any site. Unique sacral shape is designed for challenging and difficult-to-dress areas..
How to Use Tegaderm:
The central portion of the card may be removed, leaving the film suspended on a frame, which facilitates easy precise placement of the dressing and reduces wrinkling. Once in position, the frame is removed and the film is lightly smoothed into position. In order to ensure good adhesion, the dressing should be allowed a minimum overlap of 4-5 cm from the margin of the wound onto the surrounding dry skin.
Do NOT use if:
It is not recommended that the material be applied over deep cavity wounds, third degree burns, or wounds that show evidence of clinical infection. The dressing should not be used to retain in-dwelling arterial catheters.
In general, 

Tegaderm

 should not be left in position for longer than seven days. This is particularly important where the dressing is being used to retain an intravenous catheter.
Packaging
The packaging for some medications may be flat-packed.
We happily cover the cost of all postage and packaging fees.
Delivery
At instant-pharmacy we want to provide the best possible service for our customers, for that reason products sold by us are delivered FREE of charge.
All items are dispatched within 3 working days of payment receival. We use a range of couriers including Royal Mail & Hermes.
Delivery times vary depending on courier used, but all medicines should arrive within 7 working days of purchase.
Returns
We accept returns made within 14 days of receiving your order, on the condition that:
All goods being in a new sellable condition.
All items being unopened and unused.
After initiating the return procedure, you will have 14 days to send back the item(s) you wish to return.
You will be responsible for all return shipping charges.
All monies will be refunded to the account from which purchases were made from.
After 14 days of having received your order you will no longer be entitled to a full refund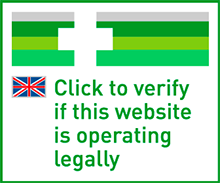 https://medicine-seller-register.mhra.gov.uk/search-registry/1069